Fine Wine and Cocktails at The Rainbow
Whether seeking a glass of fine wine by the fireplace or a hand-crafted, barrel-aged cocktail in the casual comfort of the bar to start your evening, our unique selection of libations are sure to delight the senses.

Stored through glass panels and river rock columns, The Bacchus Room houses Rainbow Ranch Lodge's award winning wine collection, which is one of the finest in the state. With a capacity of over 5,000 bottles, we cellar a wide variety of wines ranging from new world whites to old world reds. Wines stored in the state-of-the-art wine room, frame an intimate setting for private dinner parties and wine tastings for up to 12 people. Focusing on wines from California, the Pacific Northwest, and many other regions from around the world, diners are always able to find something that appeals to them. Simply put... whether you are a novice wine enthusiast or dedicated connoisseur, Rainbow Ranch Lodge wants to offer the most exciting wine experience to each of our guests.
Cocktails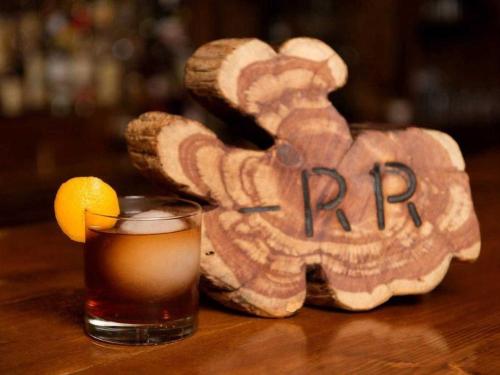 In addition our award-winning wine program, our popular barrel-aged cocktails are a hit with our guests and local residents alike. After researching specialty cocktails from various mixologists, our team came away with the Rainbow Dining Room's signature Manhattan, the Montana Sky, a blend of Buffalo Trace whiskey, Taylor Fladgate Tawny Port, and bitters. Five gallons of the cocktail are mixed and aged in used whisky barrels acquired from a local distillery for six weeks and then bottled. What was discovered was a flavor profile that had mellowed as the sweetness of the port came forward and was infused with vanilla tones from the charred whiskey barrel – a cocktail at once rugged, refined and entirely ours!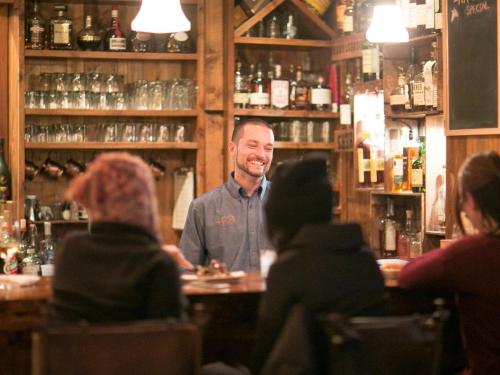 Our classic Stoli Doli, created from Stolichnaya Vodka infused with fresh pineapple, as well as, the Cucumber-Lemongrass Mojito created from lavender gin infused with lemongrass and muddled with cucumber, mint, and fresh lime juice, add to an ever-growing list of creative cocktails festive enough for any season. We invite you to kick back and relax with us in the bar and lounge with a Stoli Doli, Montana Sky, house-made ginger soda or D'anjou pear infused Makers Mark any day of the week. Or, turn up the heat with a Jalapeno-Garlic Vodka or Mango-Habanero Tequila. Cheers!