Award Winning Wines at The Bacchus Room
Bacchus is synonymous with Dionysus the Greek god of wine, known as Bacchus to Romans. The -RR Bacchus Room houses our award winning wine collection, which is one of the finest in Montana. We cellar a wide variety of wines ranging from new world whites to old world reds, and more than 2,000 bottles are stored in our state-of-the-art wine room.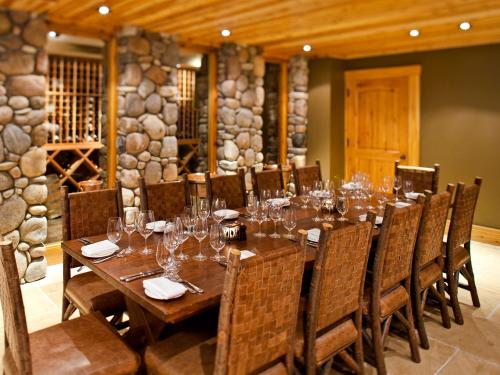 Anchored by a rustic wood farmhouse table, this intimate setting is ideal for private dinner parties and wine tastings for up to 10 people. Host a meeting or a private dinner and enjoy a multi-course private dining menu with perfectly paired wines. Or, simply select a few bottles from the collection and let each person in your party choose their favorite items from our outstanding dinner menu.
Whether you are a novice wine enthusiast or dedicated connoisseur, Rainbow Ranch Lodge offers the most exciting wine experience to each of our guests.